5 pro tips to immediately improve your sewing skills
With these simple tricks from the master tailor, you'll see immediate results, no matter if you're a beginner or already have a couple of selfmade dresses under your belt: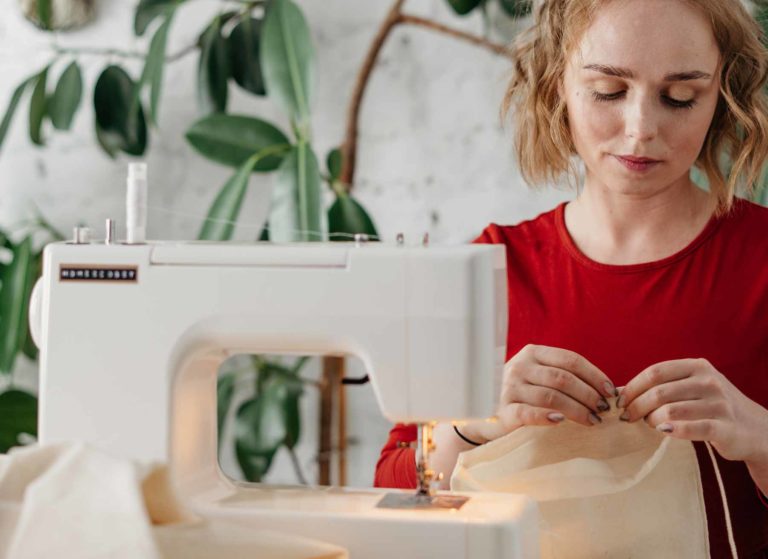 1. Use white tailor's chalk exclusively!
From a tailoring professional's point of view, tailor chalks in fancy colours or shapes such as pencils are neither necessary nor recommendable. In some cases, they can even prove detrimental. The extent of the damage often becomes apparent after the first cleaning. Professionals recommend: classic white chalk only!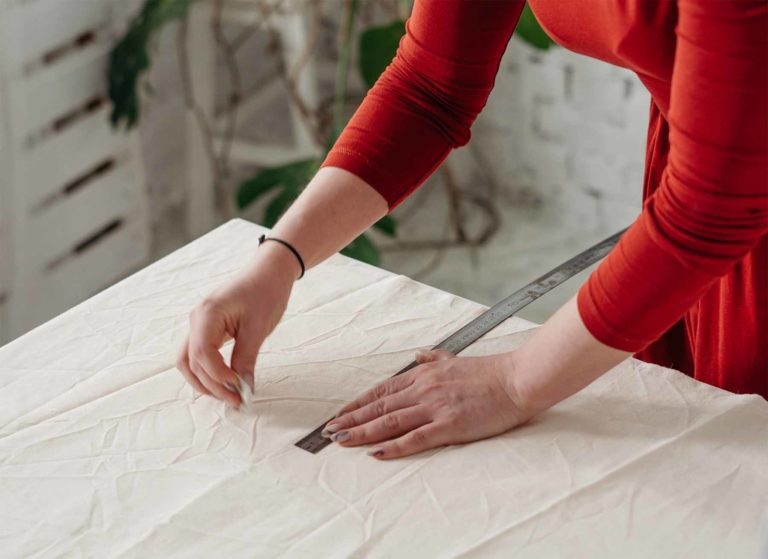 2. C

ut shell fabric along the inner edge

 
When cutting along your chalk marks, it's important to follow along the inner edge. That way, you ensure that you're keeping within the limits of the pattern and maintain the exact measures you've set out to reach. You'll see how this small trick works wonders for the perfect fit!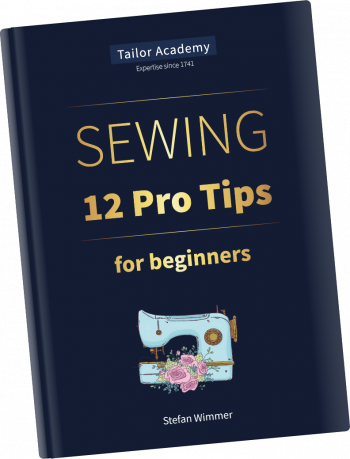 12 Pro Tips For Sewing Beginners
Did you know that there's a right direction for fixing pins? And that you need to cut top layers and lining fabrics in different ways? 
In this eBook, you'll learn why – and much more! Save time and nerves with our 12 sewing tips for beginners.
Fill in the form and the eBook is already on its way to you! 100% free. 100% expert tips.
3. BUT: Cut lining fabric on the outside!
Unlike the upper layers, you want to be a tad more generous when it comes to cutting the lining. Orient yourself along the outer edges of the chalk lines to avoid tensions in the finished piece – lining materials tend to shrink more than the outer parts!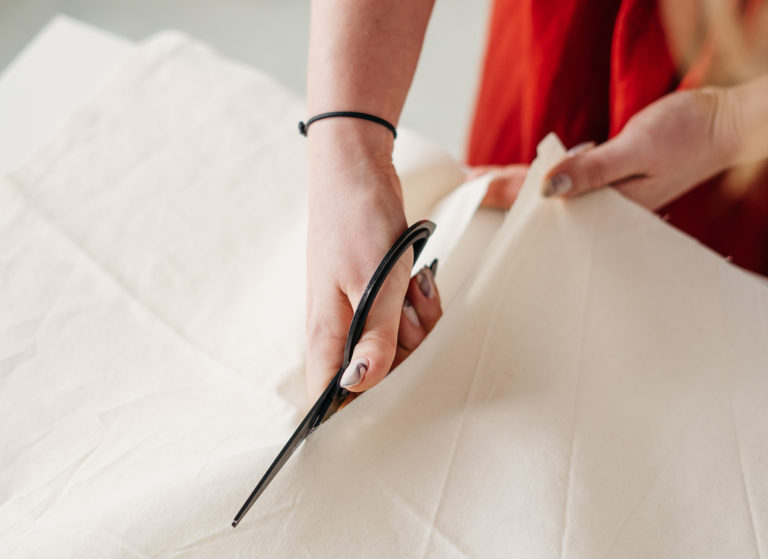 4. Position pins perpendicular to sewing direction 
Making a habit out of getting the needles oriented correctly pays off double: they're easier to remove during the sewing process and you reduce the potential of damaging to your sewing machine by sewing 'over' the pins!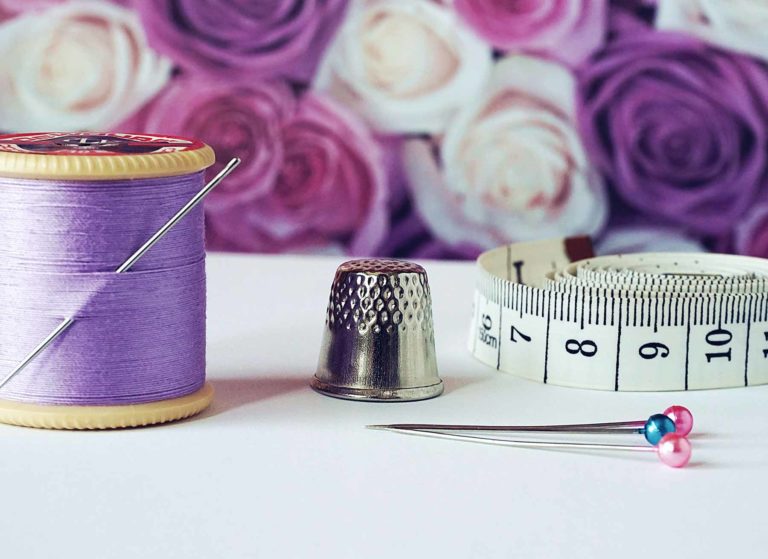 5. Guide your seams!
What is an instinct for a tailoring pro can be a challenge for beginners: using your hands to help 'feed' the fabric to the machine, you ensure a consistent, wave-free result in your finished pieces.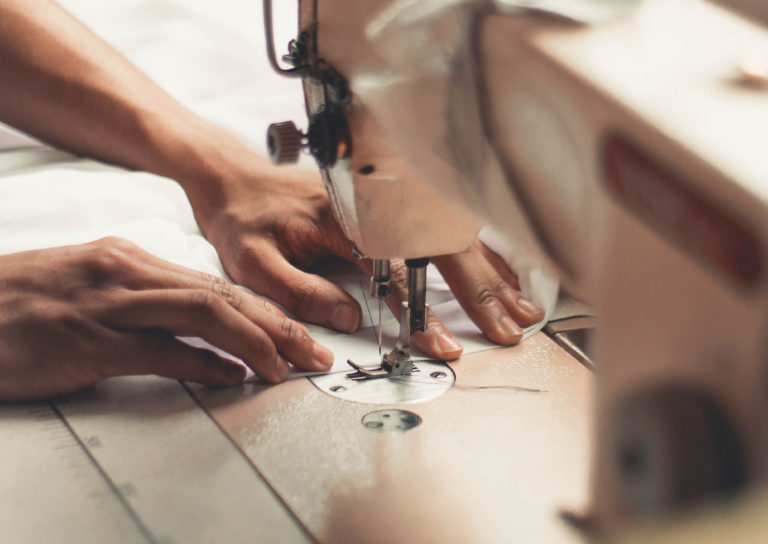 Want more pro tips? 
At Tailor Academy, we put our practical and professional approach to tailoring, fitting, and sewing front and centre. Get the professional knowledge you need for truly professional results.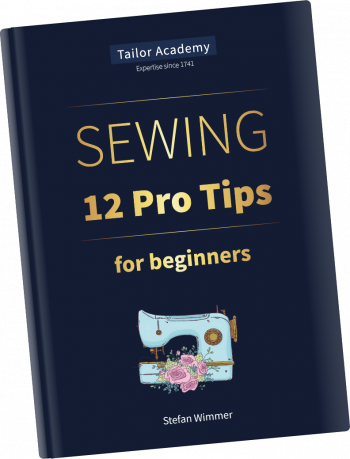 12 Pro Tips For Sewing Beginners
Did you know that there's a right direction for fixing pins? And that you need to cut top layers and lining fabrics in different ways? 
In this eBook, you'll learn why – and much more! Save time and nerves with our 12 sewing tips for beginners.
Fill in the form and the eBook is already on its way to you! 100% free. 100% expert tips.
dressmaking expertise since 1741
Learn the tailoring craft from Austrian master tailor Stefan Wimmer in this one of a kind online sewing class for all levels.
The hands-on sewing masterclass for all levels
Professional training. Full flexibility. Outstanding results.
At our real life tailor shop Wimmer schneidert in Salzburg, we believe that practice makes perfect. That's why our course focuses on working on new wardrobe favorites right from the first unit. 
You'll get theory lessons and expert tips from your experienced course leader throughout the units – exactly when and where you need them.
Our learning-by-doing approach leads to rapid successes and professional results. 
Each module is a finished piece of clothing. From dresses and skirts to jackets and menswear, followed by wedding attire and high fashion.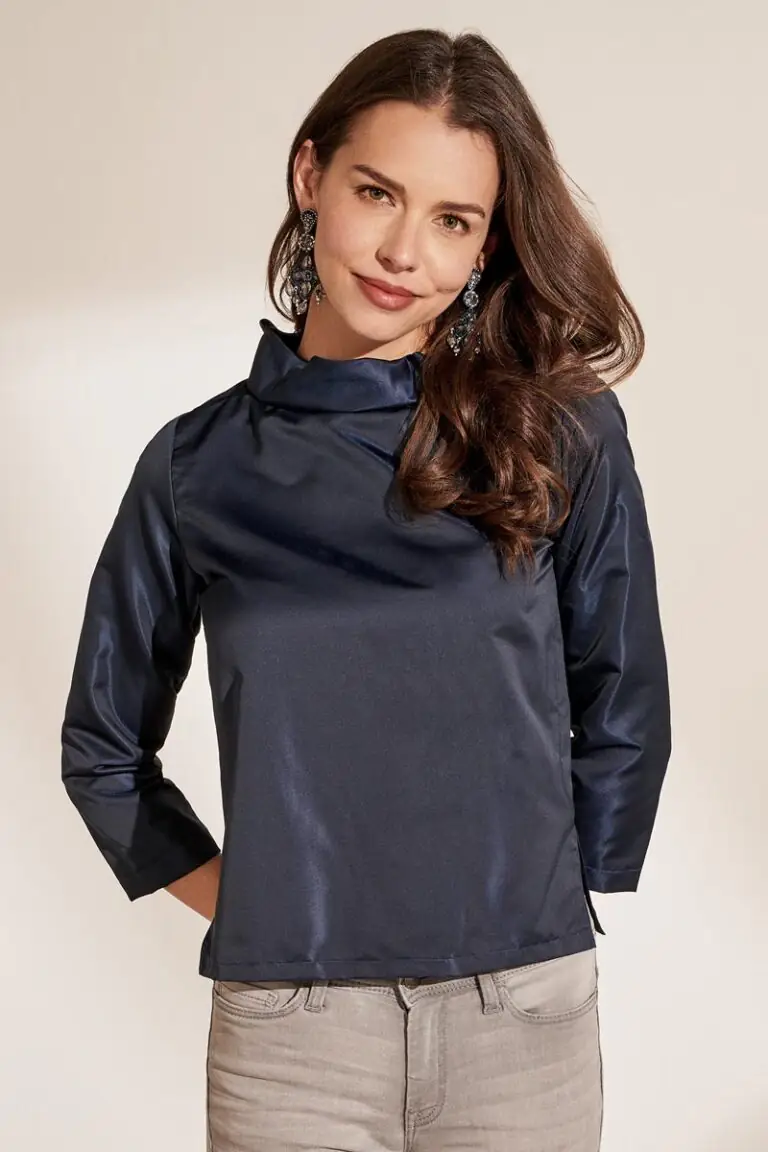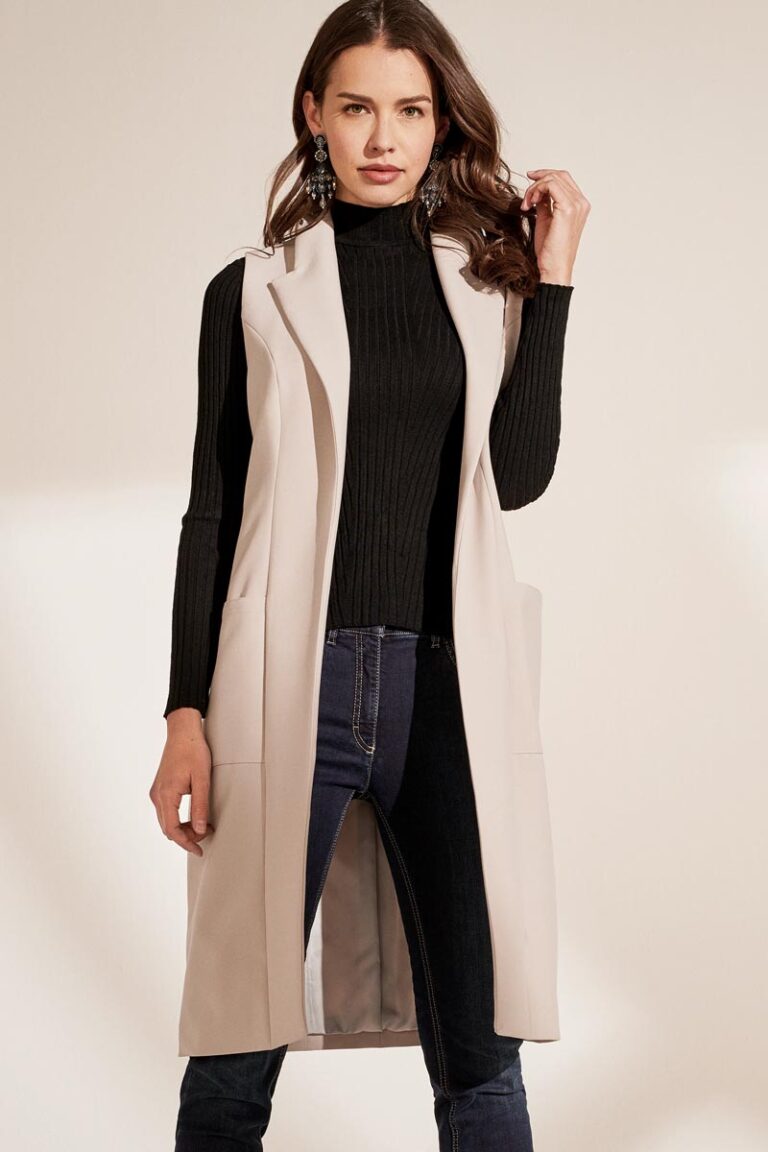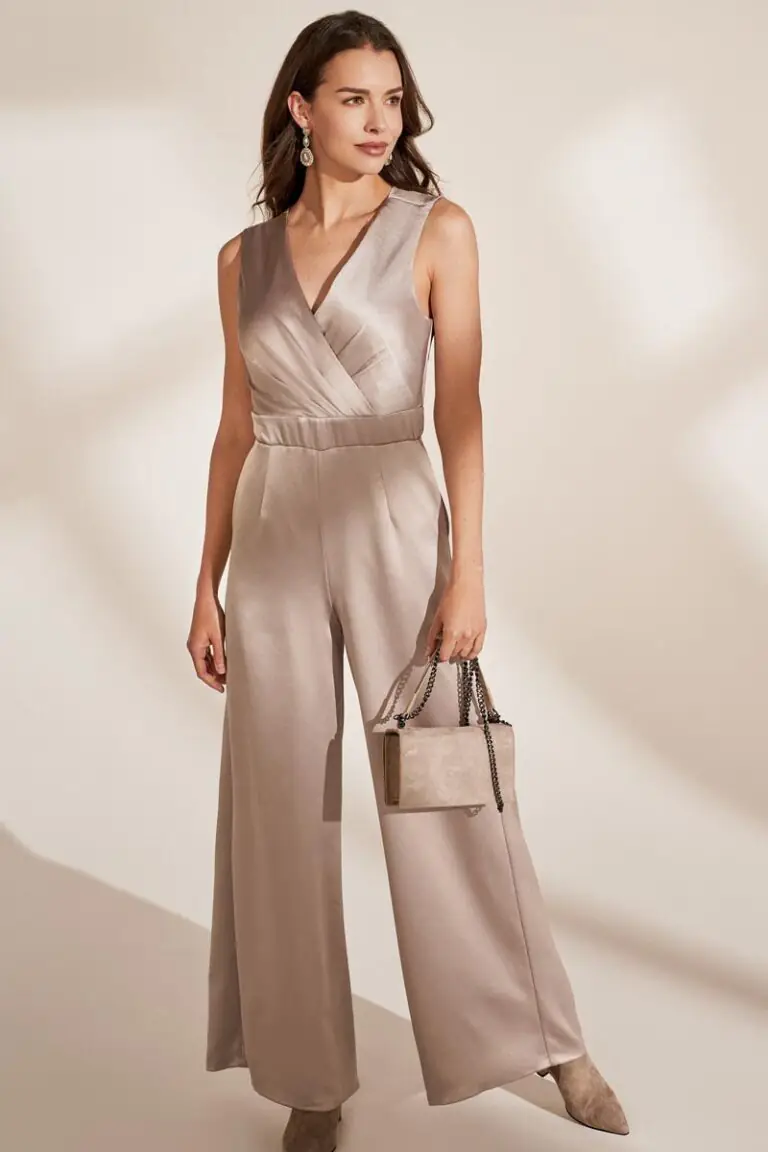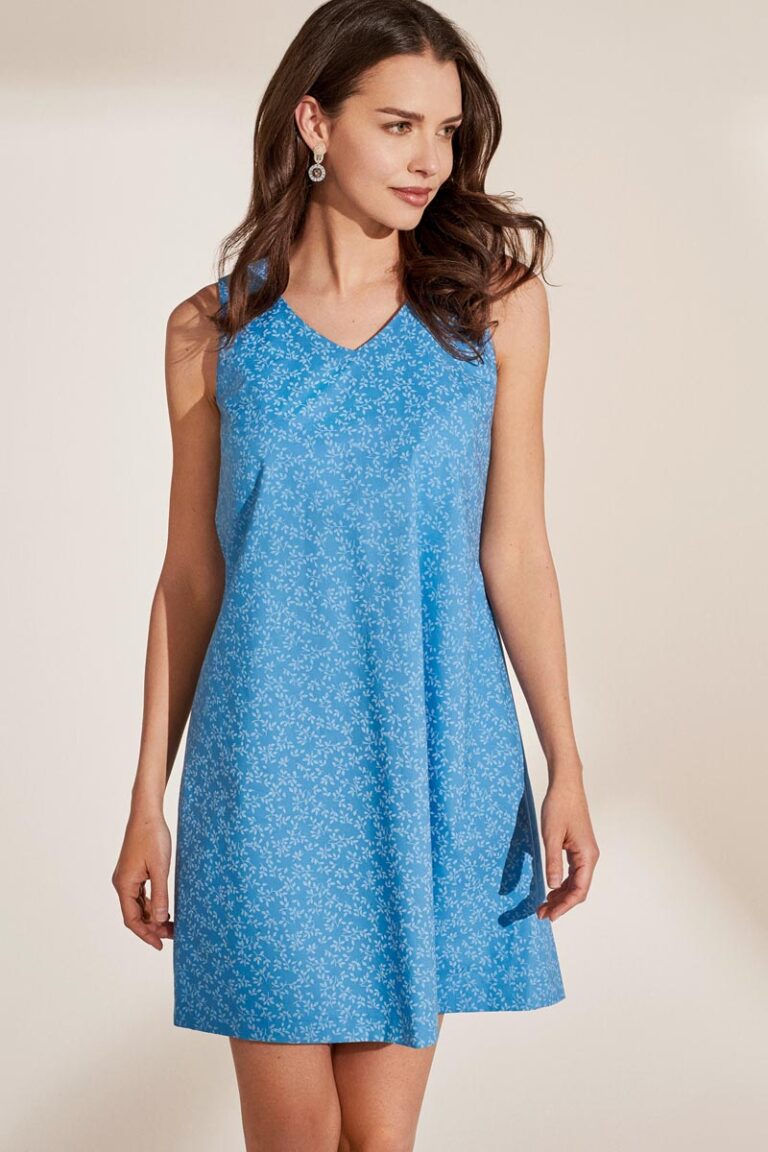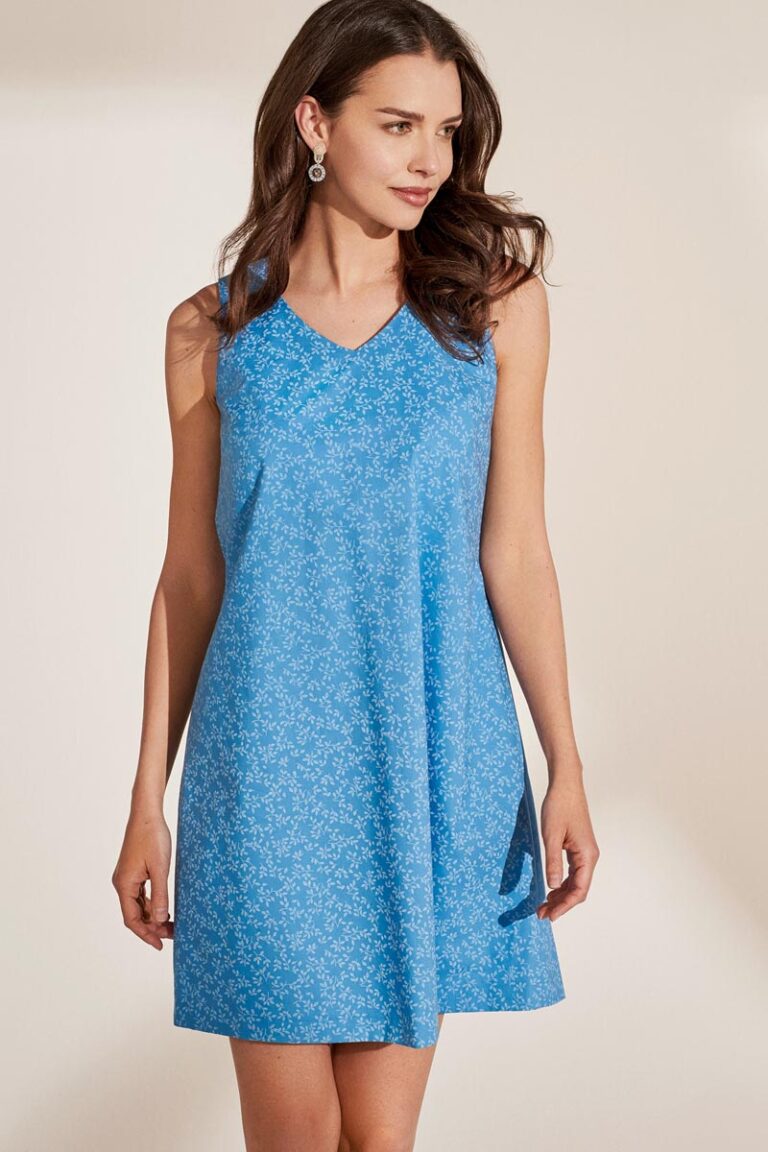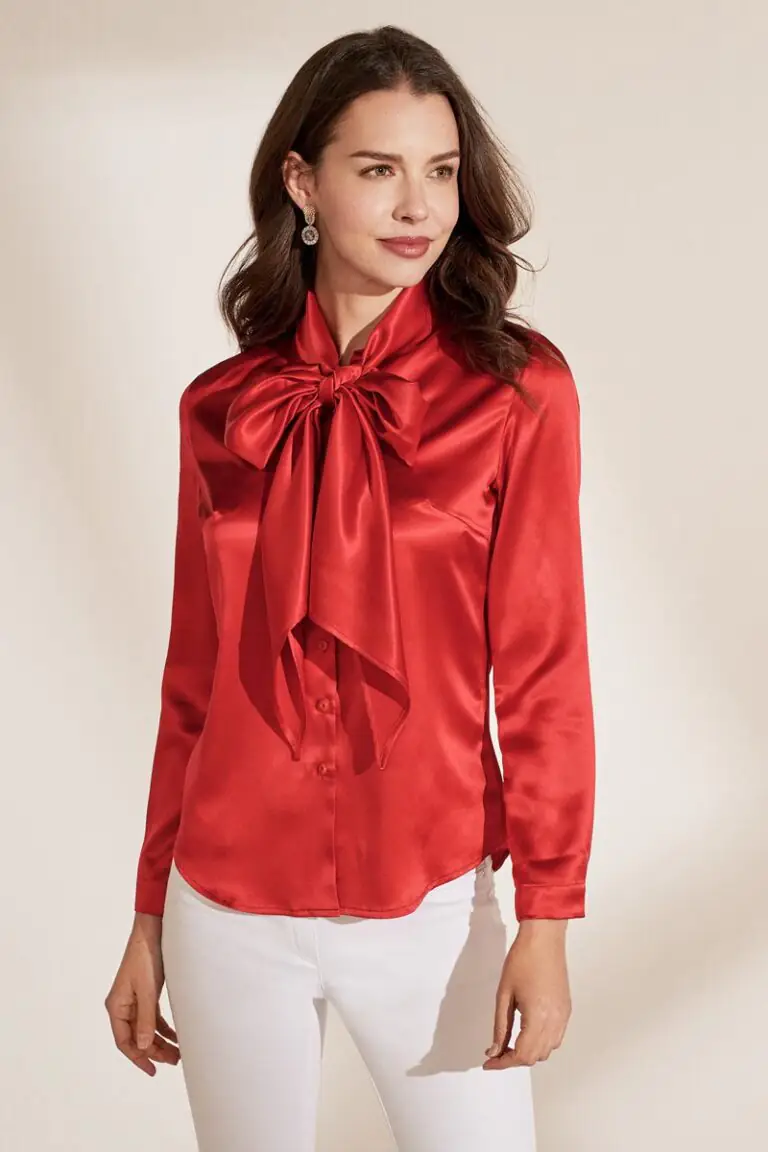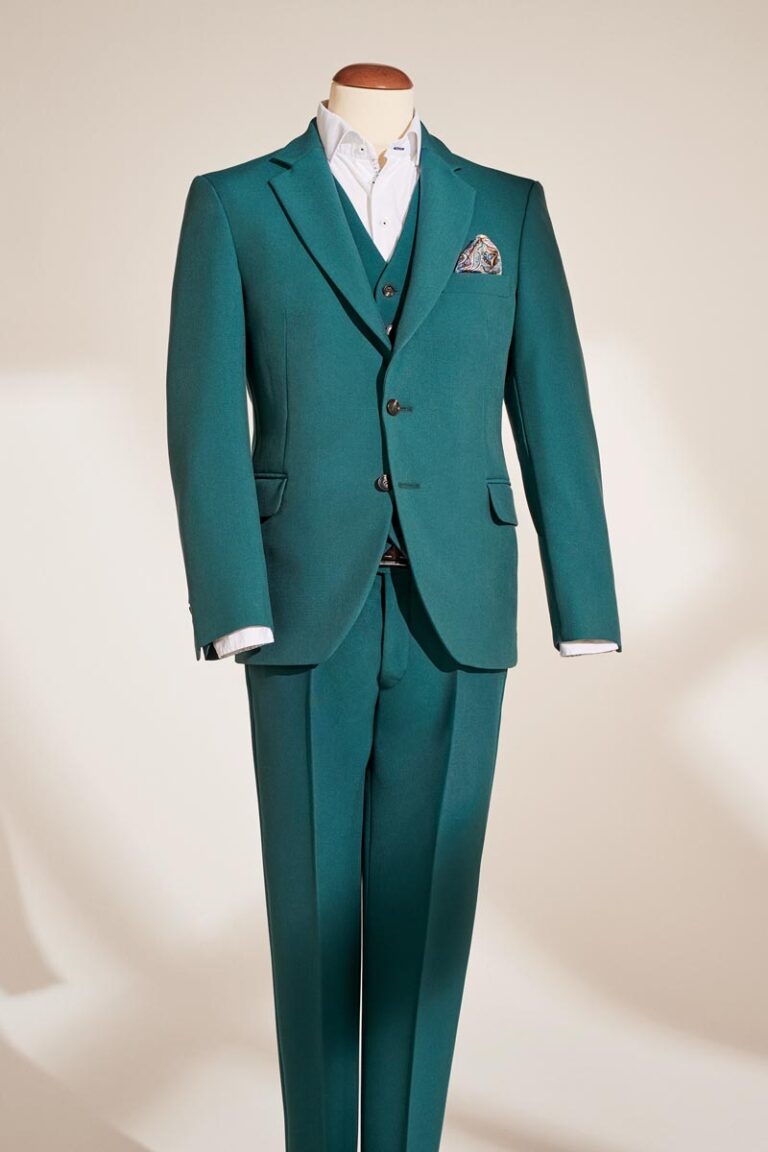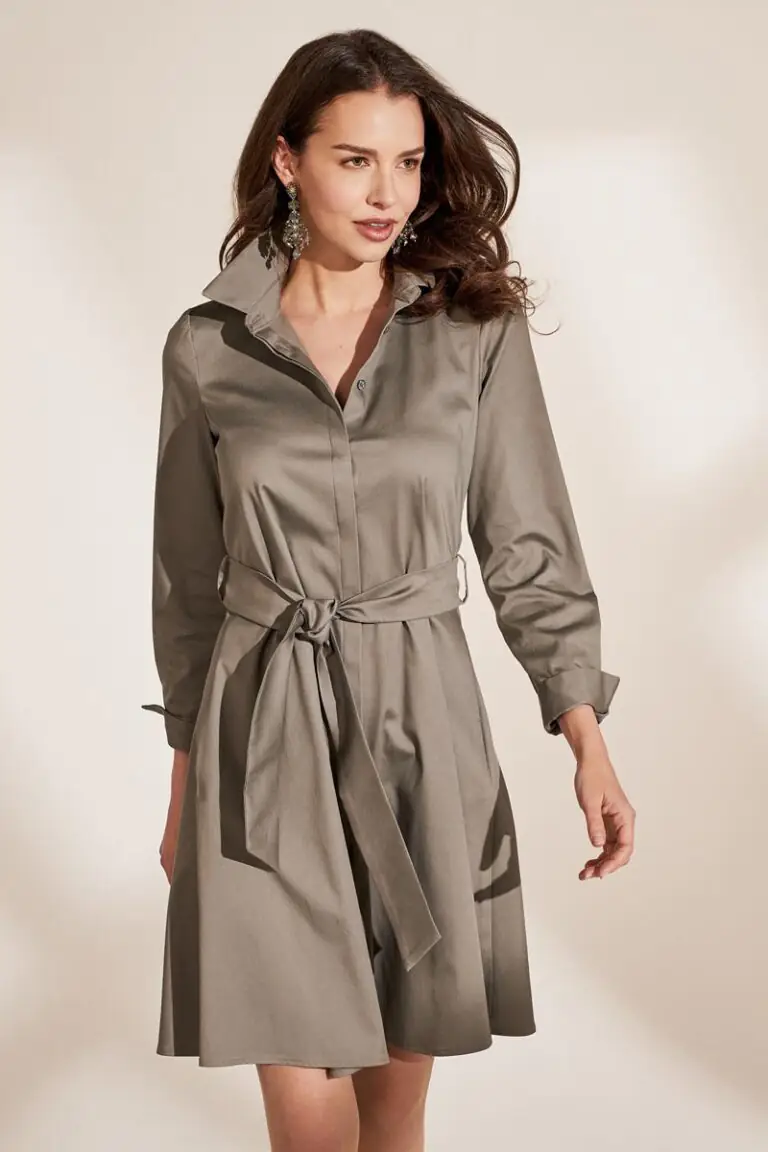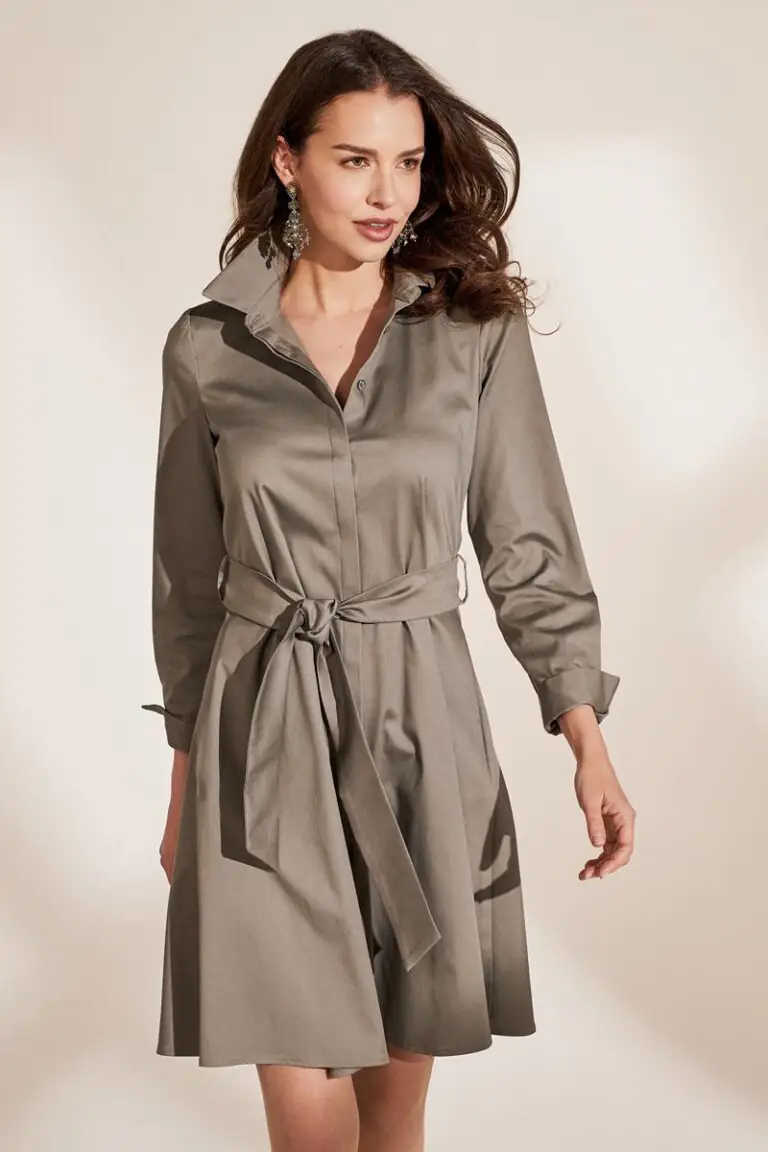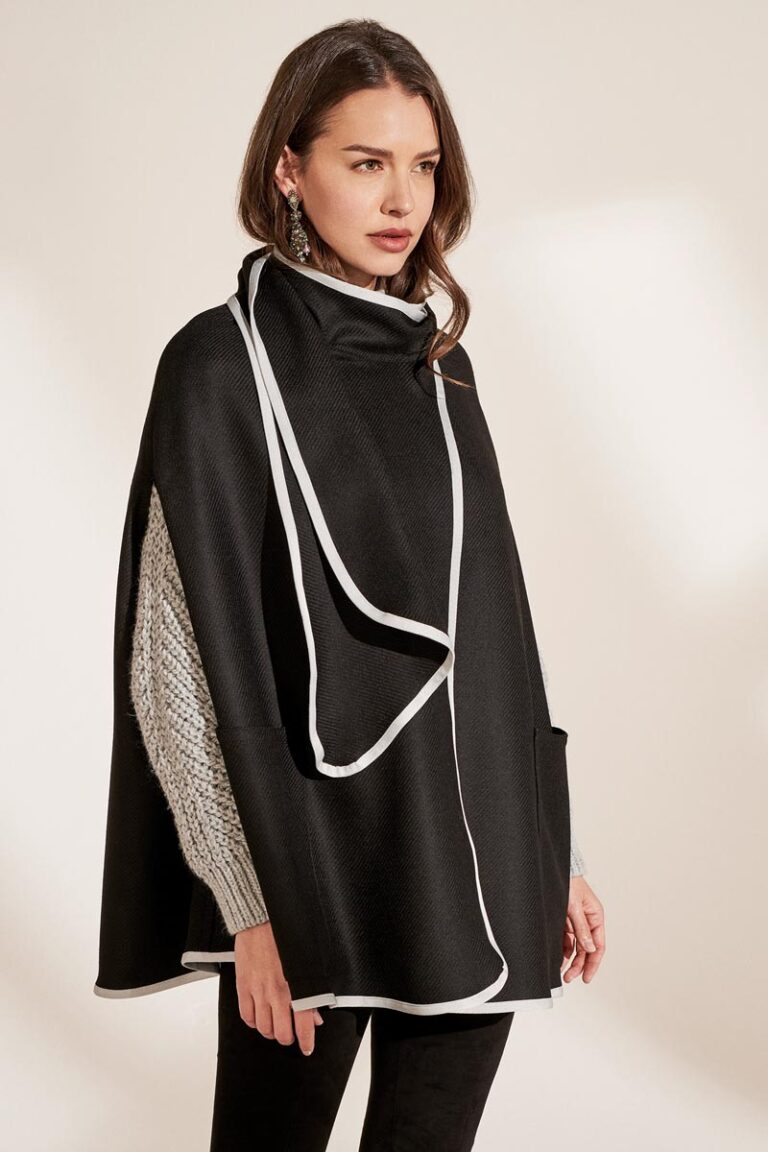 At the Tailor Academy, we focus on practical experience, knowledge and creating beautiful pieces.
You can progress at your own pace, and get ready to move onto your next piece when you're ready.
With real expert advice from an established master tailor and insights into the beautiful business of tailoring, Our customer success team is also always by your side and available to answer your questions and help you along the way.
The course from the real master tailor
Reduced For A Short Time + 14 Day Free Trial
now $ 41.90 USD 34 per unit
instead of USD 41.90 now only
$ 34.00 USD / per unit
billed $ 1,040 USD 697 / year
instead of USD 1,040.30 now
$ 697 USD / year
billed $ 2,026  USD 1,297
instead of USD 2,026.5 now
$ 1,297 USD one time
Only the payment method changes. We pass on the price advantage of the payment processor and simplified administration directly to you. All three payment options contain the same 52 Master Class units from the Tailor Academy and conclude with an examination.
Every 14 days a new unit is unlocked. Each lesson focuses on a new garment, with the pattern available for download in all sizes. Professional video sewing instructions with tips and helpful bonus material are also included with each unit.
All participants have permanent access to all activated course content, during and after the course.
Limited Time Special Price!
The course includes a total of 52 practice-oriented, expert-led video tutorials complete with step-by-step instructions. Premium sewing patterns in all sizes worth over $ 9,700 are included to download for free.
This masterclass is suitable for beginners as well as advanced users. From the very beginning, participants will create wearable pieces that increase in difficulty with every unit. In the videos, they follow detailed instructions from Stefan Wimmer as he creates every piece step by step. 
The units come complete with background knowledge, material lists, and important tips and tricks for clean and effective working. 
Tailor Academy | Wimmer schneidert
dressmaking expertise since 1741
As a ninth generation tailor, Stefan Wimmer is the current head of  Wimmer schneidert, a venerable tailoring company known for its high quality custom clothing and excellence in vocational training. The Austrian "Apprentice of the Year" award and title of National Champion regularly go to students of Wimmer schneidert. With the Tailor Academy online course, Stefan Wimmer makes his knowledge available to the world.
Wimmer schneidert – as seen on:
One course. All the knowledge since 1741.
At Tailor Academy, we want you to hit the ground sewing and work productively on new favorites from the first minute. You'll receive expert know-how and professional tips throughout the tutorials – exactly when and where you need them. 
The modules are designed to let you finish one new item in every unit. Use them as personal gifts, for yourself to wear with joy and pride, or for some extra income on the side. 
In the first unit, you'll learn how to make a chic and simple summer dress, sewing along to the expert instructions of master tailor Stefan Wimmer.
This is what our participants say
Holly Day
2022-05-29T17:09:09+0000
Ich bin zwar erst bei den ersten Einheiten, kann aber sagen das ich in den ganzen 9 Jahren, seit dem ich nähe, noch nie

...

soviel gelernt habe wie in den letzten Wochen. Die Videos sind so toll erklärt, da kommen auch kaum Fragen auf. Ich kann die Schneider Akademie wirklich jedem der das nähen lernen möchte, wärmstens empfehlen. 😊

read more
Daniela Arste
2022-05-04T07:14:25+0000
Ich bin noch Anfänger. Auch für mich sind die Erklärungen sehr gut verständlich und ich habe schon sehr viel gelernt.
Doris Pieler
2022-01-10T11:58:25+0000
Toller Kurs, ich habe schon sehr viel gelernt. Die Videos sind sehr gut verständlich. Freue mich schon auf meine

...

nächsten Projekte.

read more
Bepunkt Franzi
2021-09-19T20:09:26+0000
Ich nähe seit 4 Jahren und bin seit dem ersten Tag Feuer und Flamme. Ich sauge jede Information auf. Als ich von dem

...

Meisterkurs gelesen habe war für mich klar das mache obwohl ich am Anfang dachte was soll ich noch lerne. In der Akademie habe ich in der kurzen Zeit so viel gelernt. Ich würde es immer wieder machen und freue mich so sehr die Ausbildung und auf das was da noch kommt😀

read more
Heilmann-Hagen Carmen
2021-04-17T11:53:14+0000
Sehr hochwertige Videos, der Arbeitsvorgang ist sehr verständlich erklärt. Ich nähe schon lange, aber diese Profi-Tips

...

sind eine echte Offenbarung. Bin begeistert!

read more
Manfred Pojda
2021-04-16T16:06:18+0000
Die Schneiderakademie ist einfach toll. Die Schnittmuster sind hochwertig und die Videos dazu einfach gut erklärt😀🥰
Susanne Schweigert
2021-04-13T19:04:06+0000
Sehr gute Tips, auch für erfahrene Näher empfehlenswert.
Frank Thiée
2021-03-19T10:41:32+0000
Das ist wirklich UNGLAUBLICH!!!Ich hatte das Abo abgeschlossen und 2x bezahlt! Dann habe ich aus Zeitmangel gekündigt!

...

Auf Nachfrage der Akademie teilte ich Ihnen mit, das ich sehr zufrieden war, aber leider keine Zeit habe um den Kurs durchführen zu können.Ich habe die kompletten Gebühren wiederbekommen. Hammer!!!Das nenne ich mal einen klasse Umgang mit Kunden! Erlebt man sehr selten! Vielen Dank und wirklich alles ganz toll! Sollte ich mehr Zeit haben, bin ich auf jeden Fall wieder mit dabei!!! 10 von 5 Punkten!!! Danke!!!

read more
Jane Vielux
2021-03-05T20:42:19+0000
Step by step advices from master. Very visible details how to proceed to get professional. The course is for German

...

speakers or you have already some background, then you can follow the pictures in ,, foreign language" also. Despite I have already experiences, love to see the videos. Repeating makes the master! Definitely adorable! 👌🥰

read more
Elfriede Steger
2021-02-26T21:03:59+0000
Ich wollte Schneiderin lerne hatte aber die Möglichkeit nicht und mit Schneider Akademie ist es zu mein Hobby geworden
Gudrun Kling
2021-02-25T06:48:30+0000
Auch ich kann die Schneider Akademie sehr empfehlen, habe 2—3 Kurse davor belegt, meist jedoch nach Anleitung von

...

Fertigschnitten genäht. Die Videos sind gut gemacht, ohne viel Schnickschnack, was mir sehr entgegen kommt. Nun lerne ich präziser zu nähen. Ich bedaure nur, dass ich so spät angefangen habe aber wie heißt es so schön, besser spät als nie.Auf dem Foto sieht man Kurs 3 und 4.

read more
Astrid Schellenberger
2021-02-22T09:50:38+0000
🌹Heute wird mal wieder genäht.💖🙂🎈Fundiertes Wissen und Tipps und Tricks vom Profi, das bekommt man in der

...

Schneiderakademie.Üben muss natürlich jede(r) selbst. Doch meine Seelenkleider haben schon sehr von dem Kurs der Schneiderakademie profitiert.Die Schneiderakademie kann ich allen weiterempfehlen, die ihrer Kreativität ein solides Fundament geben wollen. 🙂⭐️⭐️⭐️⭐️⭐️

read more
Katrin Klaffenböck
2021-02-20T16:55:03+0000
Absolut empfehlenswert für jeden der mehr nähen möchte als Pullover und Jersey Shirts. Bester Service für hervorragende

...

Qualität!

read more
Sandra Straßl
2021-02-16T20:22:55+0000
Sehr lehrreich und anspruchsvoll, auch geübten Hobbyschneider, sowie Anfänger sind gefortert und können sich über tolle

...

Ergebnisse freuen 🙂 So toll erklärt, bin so froh mich für diesen Kurs entschieden zu haben 😃 Freue mich auf das kommende Jahr mit der Schneiderakedemie

read more
Claudia Hanicke
2021-02-11T10:03:16+0000
Ich bin froh, dass ich mich für den Kurs entschieden habe. Ich nähe seit vielen Jahren, aber so manche Feinheiten lernt

...

man nur von Profi und eben auch nicht durch lesen, sondern durch zuschauen. Vielen Dank an das ganze Team.

read more
Helma Diehlmann
2021-01-06T15:23:52+0000
Vielen Dank an das gesamte Team. Es ist wirklich lehrreich und macht viel Spaß. 10 von 5 Punkten.♥️😀
Gudula Küsters
2021-01-02T08:52:17+0000
Ich bin bei Lektion 3 und kann Euch diesen Kurs empfehlen! Anbei mein Schnupperkurs Werk, dass ich für meine Tochter

...

gemacht habe. Sie hat sich echt gefreut und er passt perfekt. In der zweiten Lektion ist erklärt wie man Schnitte für sich anpassen kann, sodass auch Große Größen für sich schneidern können. Viele Tricks, die ich so nicht kannte und edeln ist ein viel schöneres Wort als versäubern 😃. Sehr sympathisch gefilmt mit Liebe zum Handwerk !

read more
Trixie Kretz
2020-12-30T16:14:15+0000
Feedback wird ernst genommen und umgesetzt.
Stefanie Wolf
2020-12-16T16:53:54+0000
Toller Kurs!Wenn dir schriftliche Anleitungen manchmal rätselhaft bleiben, sind die Videos vielleicht das, was du

...

brauchst, um gut nähen zu lernen.

read more
Angelika Böker
2020-12-16T14:25:14+0000
Es macht sehr viel Spaß die Projekte nachzunähen. Ich bin sehr froh über die Vorschläge und verschiedenen Projekte.

...

Damit kann ich sehr viel dazu lernen und mich steigern. Danke!😍

read more
Gundi Herbstsommer-Bauer
2020-12-07T15:35:39+0000
Es gibt durch die Schneider Akademie eine Möglichkeit meiner Leidenschaft mehr Raum zu geben und das nähen von der

...

Basis aus zu lernen. Ich fühle mich gut ausgehoben und informiert. Bekomme schnell Antwort auf Fragen. Sehr zu empfehlen

read more
Katja Becker
2020-11-21T09:20:23+0000
Ich habe schon für meine Tochter Kleidung genäht, mache Patchwork. Schon im ersten Video, was ich mir öfters angeschaut

...

habe, sind Tipps vom Profi gekommen, die ich vorher niemals so gemacht hätte. Die Videos sind sehr gut aufgebaut, und wird gut anschaulich gezeigt. Ich freue mich schon auf das nächste Video. Von 5 Sterne vergebe ich 10. 🥰🥰🥰

read more
Nadja Sch
2020-11-06T21:33:07+0000
Die vierte Lektion wurde heute freigeschaltet. Ich freu mich schon aufs Nähen morgen.Bisher passt alles super, die

...

Schnitte sind klasse.Die Videos sind prima, und die Übersetzung aus dem österreichischen klappt auch.😉Endeln ist mein Lieblingswort beim Nähen geworden.So einen Kurs habe ich mir schon lange gewünscht.

read more
Maria Lanschützer
2020-11-05T10:26:11+0000
Ich hab immer schon gerne genäht, aber die Schneider Akademie ist für mich eine Offenbarung! 😍 Dieser Kurs ist absolut

...

empfehlenswert! 👍Herr Wimmer erklärt jeden Arbeitsschritt so klar und unaufgeregt, dass es eine Freude ist! Einen Hosenreißverschluss einzunähen war noch vor kurzem ein Riesen-Brimborium 🤣, aber nach den Erklärungen von Herrn Wimmer ist es - schwupp-di-wupp - ganz einfach geworden. Ich freue mich auf jede neue Näheinheit und hab schon so viele richtig tolle und tragbare Stücke genäht! Danke! Es macht riesig Spaß! 💐

read more
Katja Kriegsmann
2020-11-02T12:25:47+0000
Ich finde diesen Kurs eine Klasse Sache! Wenn man Spaß am nähen hat und es zuvor nicht gelernt hat, ist der Kurs ein

...

Segen und verhindert viele Misslunge Sachen. Ich Nähe jetzt schon lange und habe mir alles was ich wusste über Jahre selbst beigebracht. Ich wünschte den Kurs hätte es damals schon gegeben, dass hätte mir echt viel Ärger erspart. Ich kann einfach nur DANKE dafür sagen, dass ihr euer Wissen mit uns teilt!!! Und kann den Kurs einfach nur weiterempfehlen!!!

read more
Wirleitner Margareta
2020-10-20T17:39:42+0000
Ich kann diesen Nähkurs sehr empfehlen. Die Videos mit den Anleitungen und vielen hilfreichen Tipps sind toll

...

aufgebaut. Ich habe gerade das 3. Projekt (Trägerkleid mit verdecktem Reißverschluß) genäht. Die Schnitte und auch die Passform sind super. Ich habe eine riesen Freude mit meinem selbst genähten Kleid und bin schon ganz gespannt auf das nächste Projekt.

read more
Sonja Kraus
2020-10-14T20:24:11+0000
Habe mich erst angemeldet und bin schon total begeistert. Vielen lieben Dank.
Claudia Dreke
2020-10-08T19:49:31+0000
Ich bin von diesem Kurs begeistert und ich hätte nicht gedacht, dass ich so schnell so viel lerne und in wenigen Wochen

...

bereits richtig tragbare Kleidungsstücke nähen kann.

read more
Swantje Pietsch
2020-10-01T16:45:03+0000
Seit August 2020 bin ich bei der Schneiderakademie, um meine Nähtechniken zu verbessern und um hochwertige selbst

...

designte Kleidungsstücke für mich selber anfertigen zu können. Von den leicht verständlichen und sympathisch vorgetragenen Kursen bin ich bisher begeistert und es motiviert mich, wenn ich dann am Ende jeder Kurseinheit ein paar schöne neue Kleidungsstücke meinem Kleiderschrank hinzufügen kann. Die Freiheiten bei der Stoffauswahl und die kreativen Möglichkeiten machen mir sehr viel Spaß und ich freue mich auf die kommenden Kurseinheiten.

read more
Andrea Buchebner
2020-09-21T18:31:49+0000
Finde die Videos mit den Arbeitsschritte sehr gut, die Erklärungen sind verständlich. Die Passform des 1. Schnittes war

...

sehr gut. Habe mich über mein 1. Kleid sehr gefreut und nähe nun schon die 3. Variante. Bin schon sehr gespannt wie mir die nächsten Projekte gelingen. Kann die Schneider Akademie nur empfehlen!

read more
Petra Knab
2020-09-19T20:33:36+0000
Ein wirklich tolles Schulungsprogramm. Ich bin kompletter Kleidungs-Nähanfänger und kann den präzisen Anleitung gut

...

folgen. Die Tipps finde ich hilfreich und relevant. Alles ist sehr liebevoll und unterstützend gemacht. Bin noch am Anfang, freue mich aber auf alle noch folgenden Module. Ich bin froh, dass ich mich angemeldet habe!

read more
Lis Hilgert
2020-09-17T08:56:28+0000
Sehr gute Erklärungen, tolle Tipps vom Profi und Feedback. Ich freue mich auf meine 5.Aufgabe. 5 von 5 ⭐️ von mir
Diana Groß
2020-09-04T12:51:33+0000
Ich finde es einfach toll wie Herr Wimmer das ganze erklärt das sogar ein Leihe es super toll versteht und man es super

...

toll umsetzen kann.Super fand ich die Erklärung in der Einheit 3 mit dem RV so habe ich ihn noch nie eingenäht. Und es hat auf anhieb geklappt 🙂

read more
Sarah Ley
2020-08-31T06:36:05+0000
Ich hab mich auch für den Kurs angemeldet, die ersten zwei Lektionen sind super erklärt und man erfährt Tipps und

...

Kniffe von den Profis.

read more
Bettina Je
2020-07-25T12:32:00+0000
Ich habe mich bei der Nähakademie angemeldet und die erste Einheit hat mir schon sehr gut gefallen.Mein Kleid ist sehr

...

schön geworden und es waren hilfreiche Tipps dabei.Durch das Video fällt das Nacharbeiten leicht.Ich bin schon sehr gespannt was mich noch alles erwartet

read more
Next Reviews
Our Apprentices' Successes
⭐⭐⭐⭐⭐
""Practice makes perfect. And of course the many expert tips help."
Vinzenz W.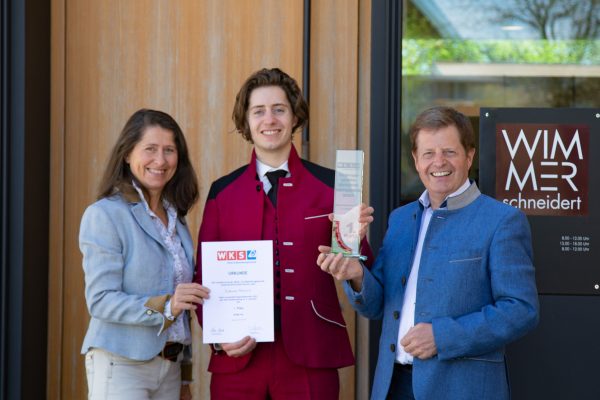 1st place Apprentice Competition
We and the entire company congratulate our son Vinzenz Wimmer (10th generation) on 1st place in the national apprentice competition as well as on his excellent success in the final certificate.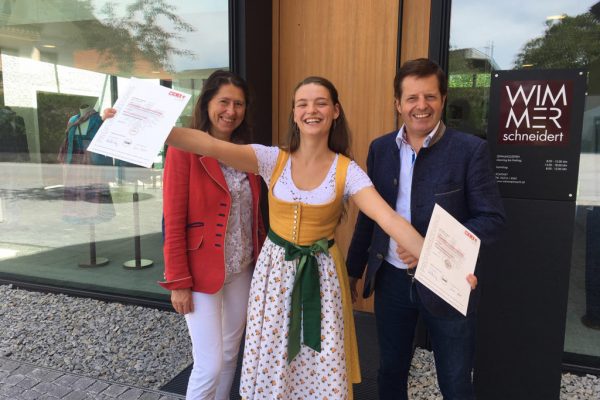 Excellent success
Theresa Leitner has successfully passed the journeyman's exams for women's and men's dressmakers and received an award for her achievements. The entire Wimmer schneidert team commends her for this great success!
⭐⭐⭐⭐⭐
"Thanks for the great training!"
Theresa L.
⭐⭐⭐⭐⭐
"With a practice-oriented training you have a clear advantage when the craft is evaluated"
Lisa R.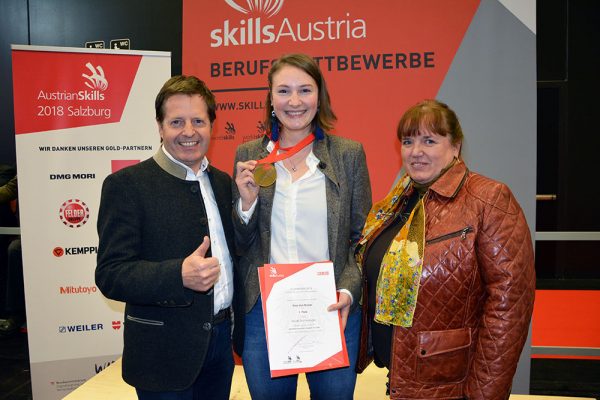 State Champion
Lisa Rasser was named national champion at the AustrianSkills competition 2018! AustrianSkills is a challenging multi-day event where participants have to prove their skills and dexterity. The entire Wimmer team is proud of our winner!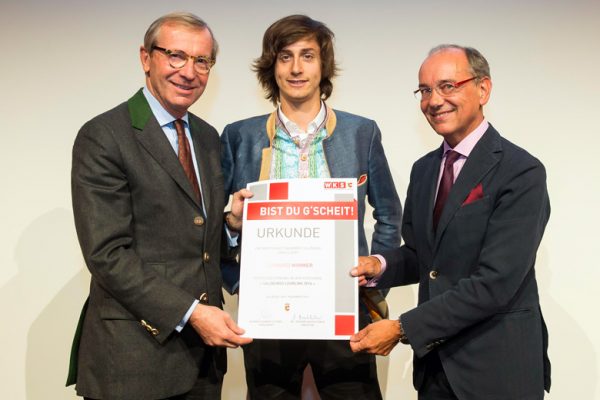 Apprentice Of The Year
Leonhard was named apprentice of the year, seen here at the award ceremony with Governor Wilfred Haslauer and WKS Vice President Peter Genser. He is now a women's dressmaker, a men's dressmaker and a "Säckler" (a maker of leather clothing).
⭐⭐⭐⭐⭐
"Thank you for introducing me to tailoring."
Leonhard W.
⭐⭐⭐⭐⭐
"I really learned a lot. Thanks for the training!"
Gregor Q.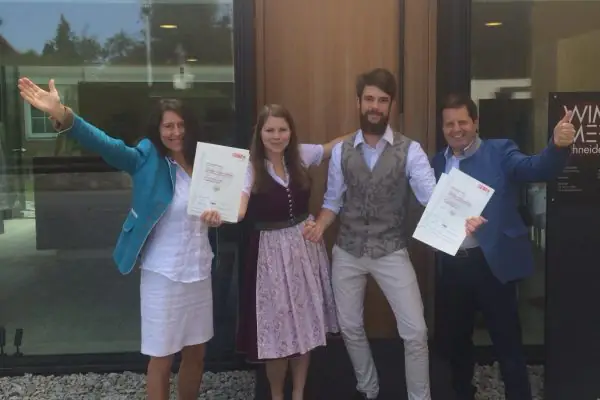 Two excellent successes
Two excellent successes in the final apprenticeship exams for Michaela and Gregor in 2020. The entire Wimmer team is doubly proud of their excellent performances!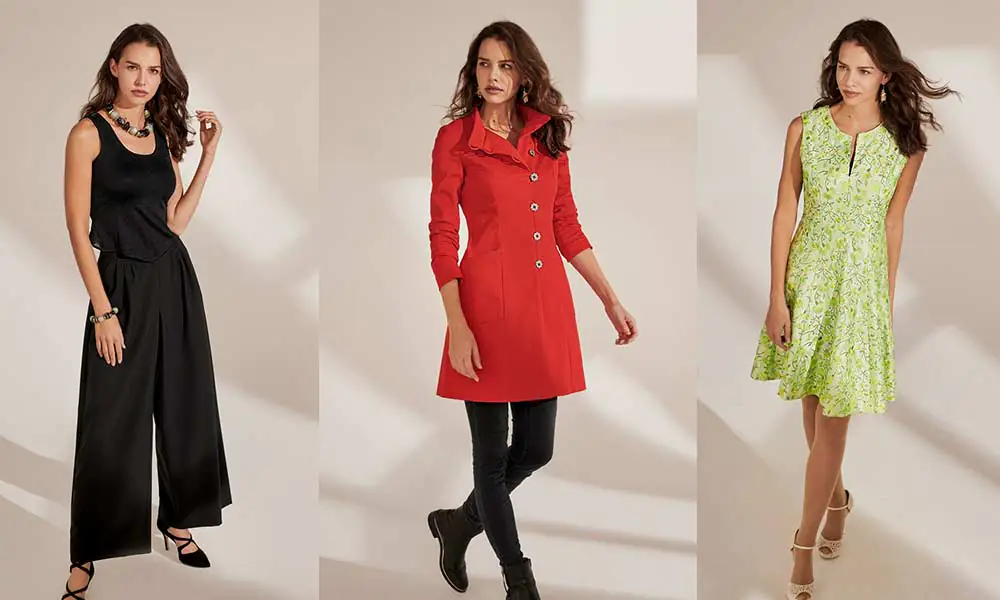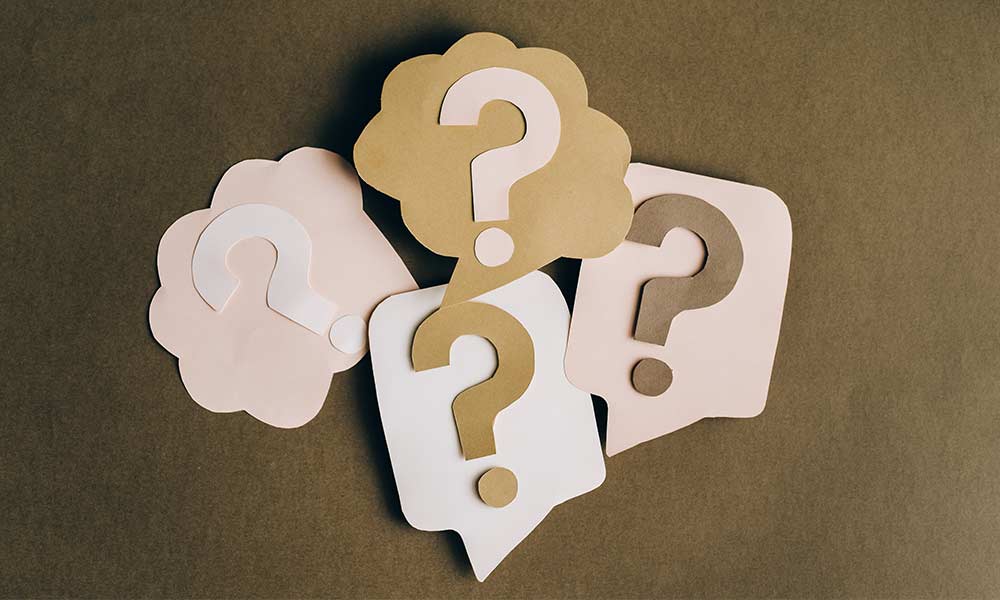 Free sewing instructions for small gifts
Pin cushion
What does every tailor and dressmaker need? Exactly! Here is a simple sewing instruction with pattern.
Machine tension
Learn in three videos how to set the sewing machine and overlock perfectly.